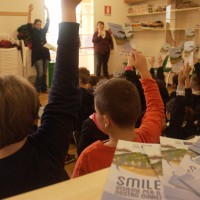 From July 2014 to March 2015 four promotional events took place in the pilot area with the objective to raise people's awareness about SMILE themes. Approximately 300 people – tourists and residents – got in touch with the project thanks to the info points where Comune di Pietra Ligure and Erica organised several workshops on marine litter and waste collection.
During the events organised in Pietra Ligure, Tovo San Giacomo and Giustenice, the attendants to the info point could assist to an "analysis by type of waste" and get information on projects activities including the System for waste signalling (TRASH PIC APP and the SMILE phone number). Promotional materials can be download at Prevention and Raising Awareness Campaign page.
A special event for primary school took place in Magliolo where 42 scholars participated to three thematic workshop on different type of waste. Throughout playful activities children could learn more about the whole process transforming an object into marine litter. Thanks to the teachers, promotional material has been delivered to the children's families and permanently exposed in the school.