Recognise and classify litter in order to identify its origin and its destination in accordance with standard procedures.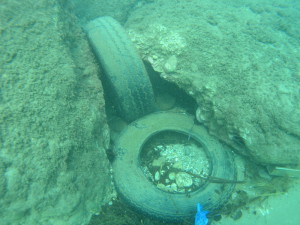 In order to prevent marine litter and to design specific solutions for waste treatment it is necessary to retrace its path from the origin to the beaches.
We know that Most of "marine litter" is land based: it is produced by humans and transported toward the sea by the water and the wind. Identifying the material each item is made of, as well as its former use, is a basic step to understand its origin and to prevent the problem. Prevention can be declined as modifying disposal systems, industrial processes and people behaviours.
The Marine Strategy Framework Directive (2008/56/CE) and the UNEP Guidelines on Survey and Monitoring of Marine Litter (2009) define EU and International standards for items and materials' identification and classification.
SMILE applies international indications and standards to define a local monitoring protocol that could allow the classification of most of the items and materials located on Ligurian Coast: once defined, the protocol will be applied during two monitoring campaigns carried out in the sample area (coast of Pietra Ligure).
Deepening the knowledge on litter and waste's problem, also means to understand how people, that normally hang out at the beach, perceive this issue from different points of views (such as environmental degradation, social and economical impact): this will be the object of the survey carried out by Liguria Ricerche together with ARPAL.
Documents Download (ita-eng)

Photoguide for marine litter monitoring. (PDF-Ita)
Shallow Waters Report.(PDF-Ita)
Stakeholders' Perception and Ecosystem services analysis – final report.(PDF-Ita)
Seashore Monitoring Report.(PDF-Ita)
A1 Initial Survey Abstract (PDF-Eng)
Marine Litter Best Practices Overview.(PDF-Ita)