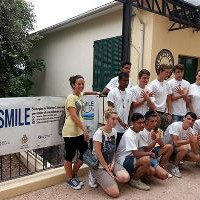 The 8th July 2014 a special application for smart phone called "TRASHPIC" has been launched during a press conference organised in Tovo San Giacomo. "Trashpic" allows citizens and tourist to signal dumped waste in the Maremola river basin directly to local authorities, providing them with all the information required to localise and remove the item. "An innovative and useful tool" commented the Major of Pietra Ligure.
The press conference was held during the first day of "SMILE campus" organised by Legambiente a free initiative which allows young people to participate in activities concerning coastal environment protection together with an NGO and project partners.
Regione Liguria – SMILE Lead Partner – underlined the importance of citizens' participation to project activities in order to raise their awareness.